Preserving & Perpetuating Hawaiʻi's Proud & Living Paniolo Heritage

"Paniolo" – The Hawaiian Cowboy
The first cattle were gifted to Hawaiʻi in 1793. Uncontrolled, they eventually plundered villages, gardens and farms. By invitation from King Kamehameha III, vaquero arrived as mentors of the native Hawaiians. Thus began the unique story of the Hawaiian Paniolo … 


THE PANIOLO PRESERVATION SOCIETY exists to promote the heritage of the Hawaiian cowboy. We celebrate the Hawaiian ranching industry and the accomplishments of the generations of paniolo that made that industry possible. Representing all cowboys from all of the Hawaiian islands, our goal is to increase public awareness of the historical, present-day and future significance of Hawaiʻi's ranching industry and the honored traditions of its paniolo.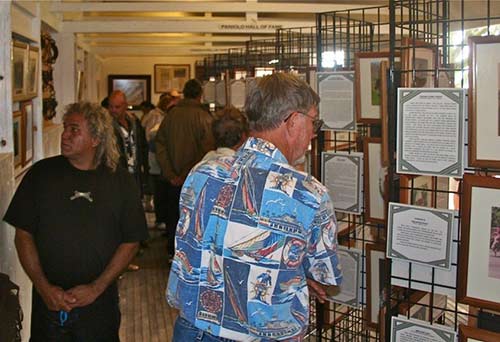 HERITAGE CENTER
VISIT our unique paniolo history museum packed with old-time stories, photos, saddles & more. Open Monday – Saturday 9am to 2pm. Wednesdays 9am – 3pm during the Midweek Farmers Market.
JOIN US ON Wednesdays from 9 am – 3:00 pm for the Waimea MidWeek Farmers Market and on Saturdays from 7:30 am to 1 pm for the Kamuela Farmers Market.
HOST YOUR EVENT at Pukalani Stables, home to of Parker Ranch paniolo and one of the oldest and most historic ranching sites in Hawaii. Ideal for groups of up to 200 people.
HELP SUPPORT PPS
Paniolo Preservation Society is a 501(c)(3) nonprofit funded solely by those wishing to preserve and promote the ranching heritage of Hawaiʻi.
Your generous support in any amount is appreciated and helps carry on the legacy of the paniolo!
MAHALO from PPS
We could not have asked for a more picturesque day for the Old Hawaii on Horseback: Nā Wahine Holo Lio, pageant!  Held on Saturday, September 14, 2019 at the Waikiʻi Polo Field, the day dawned with crystal clear blue skies and puffy white clouds which provided a...
read more
We are so pleased to have this Saturday, Sept. 14, 2019 be formally declared "Na Wahine Holo Lio Old Hawai'i On Horseback Day!" The event – a stunning pageant with more than 100 beautifully costumed riders on horseback -- will formally salute and thank the generations...
read more