Preserving & Perpetuating Hawaiʻi's Proud & Living Paniolo Heritage

"Paniolo" – The Hawaiian Cowboy
The first cattle were gifted to Hawaiʻi in 1793. Uncontrolled, they eventually plundered villages, gardens and farms. By invitation from King Kamehameha III, vaquero arrived as mentors of the native Hawaiians. Thus began the unique story of the Hawaiian Paniolo.


HERITAGE CENTER & STORE HOURS:
Monday, Tuesday, Thursday, Friday: 8 am – 3 pm
Wednesday, Saturday 8 am – 2 pm
LOCATION MAP
THE PANIOLO PRESERVATION SOCIETY exists to promote the heritage of the Hawaiian cowboy. We celebrate the Hawaiian ranching industry and the accomplishments of the generations of paniolo that made that industry possible. Representing all cowboys from all of the Hawaiian islands, our goal is to increase public awareness of the historical, present-day and future significance of Hawaiʻi's ranching industry and the honored traditions of its paniolo.
Pāʻū Rider Statues
These exquisite statues were introduced in 2019, and they are being offered again to members first, with proceeds going to support Paniolo Preservation Society. To reserve your Pā'ū Riders statue:
Call: 808-854-1541 or email [email protected].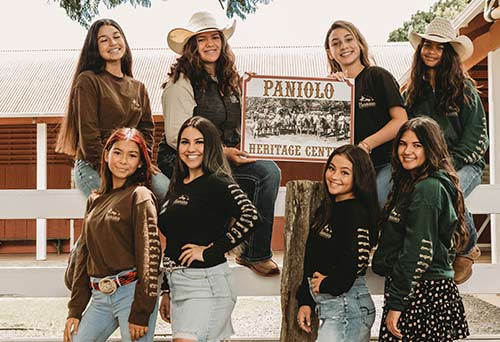 Visit our Heritage Center ONLINE Gift Shop! Explore our logo apparel, books, kitchenware, western gifts, keiki clothes and toys, PPS custom palaka facemasks, and our new Ride for the Brand long sleeved tees.
HOST YOUR EVENT at Pukalani Stables, home to of Parker Ranch paniolo and one of the oldest and most historic ranching sites in Hawaii. Ideal for groups of up to 200 people.
HELP SUPPORT PPS
Paniolo Preservation Society is a 501(c)(3) nonprofit funded solely by those wishing to preserve and promote the ranching heritage of Hawaiʻi.
Your generous support in any amount is appreciated and helps carry on the legacy of the paniolo!
MAHALO from PPS
William J. "Willy" Andrade, Sr. (Paniolo Hall of Fame Class of 2001) is fondly remembered as founder of the Hawai'i Saddle Club…
read more
The Greenwells, a Paniolo Dynasty The history of the paniolo begins not on horseback but at sea, with the ships that brought both cattle and cattlemen to Hawaii's shores. In 1850, after failed attempts at sheep ranching in Australia, and gold mining in California, one...
read more