Preserving & Perpetuating Hawaiʻi's Proud & Living Paniolo Heritage

"Paniolo" – The Hawaiian Cowboy
The first cattle were gifted to Hawaiʻi in 1793. Uncontrolled, they eventually plundered villages, gardens and farms. By invitation from King Kamehameha III, vaquero arrived as mentors of the native Hawaiians. Thus began the unique story of the Hawaiian Paniolo … 


THE PANIOLO PRESERVATION SOCIETY exists to promote the heritage of the Hawaiian cowboy. We celebrate the Hawaiian ranching industry and the accomplishments of the generations of paniolo that made that industry possible. Representing all cowboys from all of the Hawaiian islands, our goal is to increase public awareness of the historical, present-day and future significance of Hawaiʻi's ranching industry and the honored traditions of its paniolo.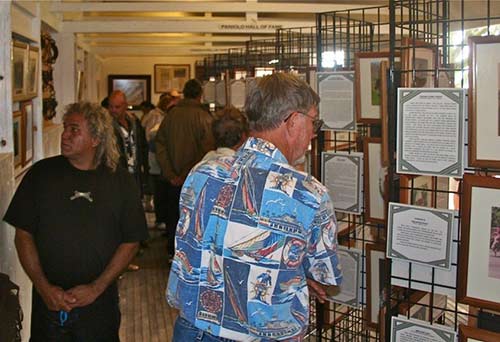 HERITAGE CENTER
VISIT our unique paniolo history museum packed with old-time stories, photos, saddles & more. Open Monday – Friday 9am to 4pm. 
JOIN US ON Wednesdays from 9 am – 2:00 pm for the Waimea MidWeek Farmers Market and on Saturdays from 7:30 am to 1 pm for the Kamuela Farmers Market.
HOST YOUR EVENT at Pukalani Stables, home to of Parker Ranch paniolo and one of the oldest and most historic ranching sites in Hawaii. Ideal for groups of up to 200 people.
HELP SUPPORT PPS
Paniolo Preservation Society is a 501(c)(3) nonprofit funded solely by those wishing to preserve and promote the ranching heritage of Hawaiʻi.
Your generous support in any amount is appreciated and helps carry on the legacy of the paniolo!
MAHALO from PPS
The triumphant true story of the native Hawaiian cowboys who crossed the Pacific to shock America at the 1908 world rodeo championships Oregon Book Award winner * An NPR Best Book of the Year * Pacific Northwest Book Award finalist * A Reading the West Book Awards...
read more
A long time ago, at a rodeo far, far away, three Hawaiian paniolo thrilled the fans in Cheyenne, Wyoming with spectacular wins. It was 1908, and Eben Low, great grandson of John Parker I, sent Archie Ka'au'a, Jack Low and Ikua Purdy to the Frontier Days World...
read more