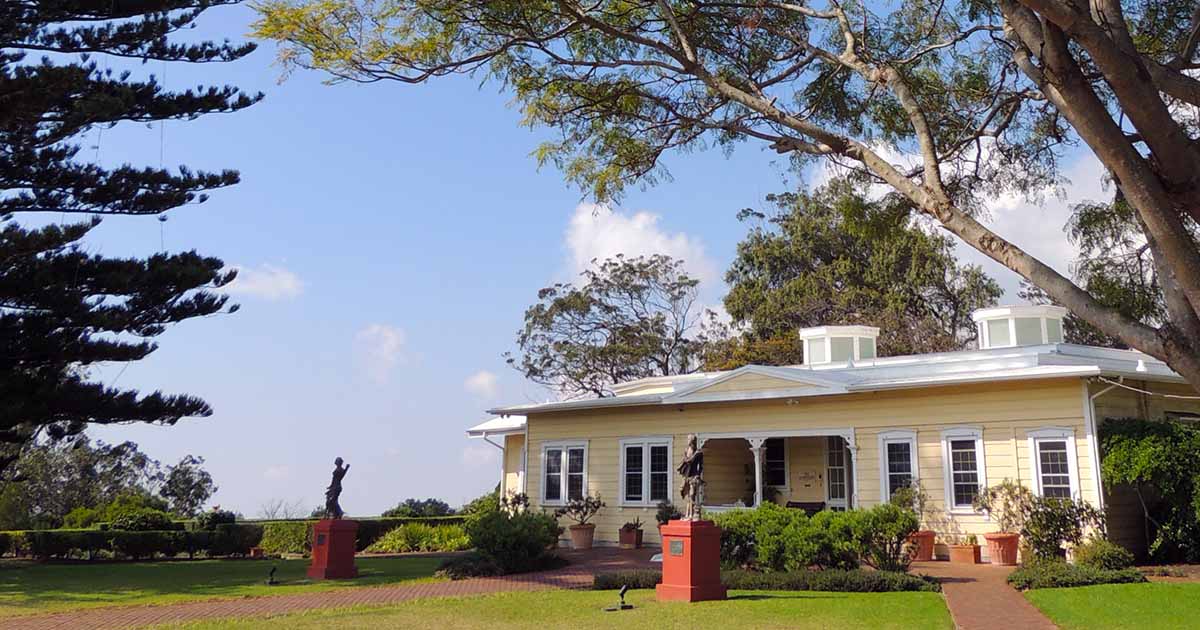 Mana Hale and Puuopelu
When John Palmer Parker, age 19, arrived from Massachusetts in 1809, he couldn't resist the lure of the island, and left his ship to experience it beyond the harbor. Within a few years, he had established a relationship with King Kamehameha I, received exclusive permission to hunt the wild cattle roving the countryside, set up a thriving beef and trade business with visiting ships, married a chiefess, and received enough land to plant the first seeds of the Parker Ranch legacy.
His first property was in a remote area on the slopes of Maunakea, where he built a home that reminded him of the New England neighborhood where he grew up. Mana Hale (House of the Spirit) became a two-story Cape Cod "salt box" house, with a steep slate roof and plain white walls, small windows and a dormer. It was almost completely made of koa wood: the narrow "ship style" staircase, three bedrooms, sitting rooms and great room, floors to ceilings, including much of the furniture.
The growing Parker family and hosted travelers frequently at Mana Hale, and John would sing, chant and tell Hawaiian stories, as taught by his brother-in-law, Kapua'a. The property had separate cooking and bath houses, and at one time included similar homes for John's sons, Ebenezer and John II, and their families. Eventually, through land grants, purchase and leases, John obtained over 1,000 additional acres, and his operation expanded with his holdings.
When John died in 1868, he had already lost Ebenezer at age 19, so he willed half of the Parker property each to son John II and grandson Samuel "Kamuela" Parker. Samuel and his wife Harriet Panana Napela enjoyed entertaining, and often welcomed travelers, dignitaries, missionaries and members of the Hawaiian monarchy, including Samuel's classmate, King David Kalākaua. Samuel became more and more involved in government and society, and John II more in ranching.
In 1879, John II purchased the beautiful "Hawaiian Victorian" mansion, Puuopelu. Originally built in 1862 by Englishman Charles Notley, Puuopelu became the heart of Parker Ranch.
John II adopted Samuel's son John III to be heir of his half of the Ranch, but John III also died at age 19, leaving his young wife Elizabeth and infant daughter Thelma. With so much potential wealth at stake, Elizabeth sought out and hired Honolulu attorney and former judge Alfred Wellington "A.W." Carter to manage the Ranch on Thelma's behalf.
When she came of age, Thelma married Gaillard Smart and they had a son, Richard, in 1913. Tragedy continued to haunt the family however, as Thelma died of tuberculosis and Gaillard of meningitis when Richard was only two. Just as she had raised her daughter alone, Elizabeth—who Richard called "Aunt Tootsie"—took him under her wing. The two traveled extensively and had a glamorous home in San Francisco, visiting Puuopelu every summer. Richard grew to love music and fine art but his passion was the theatre. He studied acting at Stanford University, and went to work as an actort the Pasadena Playhouse.
Then, on his 20th birthday, Richard became the sole owner of Parker Ranch. He entrusted A.W. Carter with ranch operations while he followed his heart to the footlights of Broadway and fashionable clubs in New York and Paris. Over the years, A.W. and his son Hartwell Carter developed the ranch and increased land holdings to about 500,000 acres.
Richard came back to the island in 1960, and set about making Puuopelu into his grand estate. The outdated kitchen was divided in half to create a formal dining room. The all wood-living room gave way to a concrete and steel structure 55'x35', with a tall, 16' ceiling, octagonal skylights and crystal chandeliers. With the addition of a baby grand piano, French Victorian furniture, Italian marble fireplace, and classic French doors leading to a wide lanai that overlooks terraced gardens, Richard's vision was realized.
In 1986, Richard decided to move his ancestral home, Mana Hale, to the grounds at Puuopelu. Walls, floors and ceilings were taken down, numbered and reassembled into a replica of the original home.
Mana Hale is filled with objects and artifacts in an interesting mix of ranch life and Hawaiian culture. Tiki carvings and stone poi pounders are displayed near a table set with china teacups and saucers. A modern sofa and chairs rest on a handmade lauhala mat. The bedrooms are decorated with antique Hawaiian quilts on handmade koa beds, oil paintings of beautiful women, and replicas of the dresses they wore. In the room set aside to honor Thelma, along with dresses, hats, jewelry boxes and photos, a guitar and 'ukulele pay tribute to her musical talent.
In front of Puuopelu stands a stately, 150' Cook pine tree. Planted on the front lawn in 1862, it is decorated and lighted for Christmas each year, for the whole community to enjoy. In the back, through the rose gardens and landscaped pathways, there is a quiet family columbarium. A plaque reads "Kaleioku Richard P. Smart, a contemporary ali'i, loved by many."
Richard passed away in 1992, leaving Parker Ranch as a beneficial trust. It is presently owned and operated by the Parker Ranch Foundation Trust, and its beneficiaries are Queens North Hawai'i Community Hospital, Parker School Trust Corp., Hawai'i Preparatory Academy and the Richard Smart Fund of the Hawai'i Community Foundation.
Today Puuopelu and Mana Hale are open to the public by reservation only on Tuesday and Wednesday, 10 a.m.–2 p.m. For more information, visit www.ParkerRanch.com or call 808-885-7311.